Arcast's new Melt Spinner casts a thin continuous ribbon of fast-quenched amorphous metal
January 2018
Arcast's installation of our inert gas atomizer at Sheffield makes Metal AM news. See the full article here
October 2017
Here's our next system, nearly ready to ship to Sheffield, England. This atomizer will complement the arc melting and casting system we have already shipped to Sheffield. Time to strip it down and powder-coat it in readiness for the journey across the pond.
July 2017
See the video below for a view of one of our gas atomizers in action, our tube-feed arc/plasma melter making spherical titanium powder. The blue color results from the argon plasma. You can see a gallery of our products and processes in action here.
June 2017
Arcast Inc. is proud to announce we have successfully gas-atomized titanium with a D90 of less than 60 μ (D50 of 25 μ to 35 μ) with no ceramic contact or any other risk of oxide inclusion (no contamination).
The gas-to-metal ratio is a fraction of the ratios conventionally achieved using the standard free-fall gas atomizing method. Using this method, we can start from a wide range of melt feedstocks, including but not limited to, bar, scrap or sponge. We look to combine this method with one of our continuous alloying furnaces, previously developed. The next phase of development will be to process a wide range of titanium alloys and other reactive or refractory alloys.
We believe that this is the process the industry has been waiting for: to produce low cost, clean, fine spherical titanium alloy powder very efficiently with zero risk of contamination from a wide range of economical feedstocks.
March 2017
Arcast proves itself again to be a valuable player in the growing AM (additive manufacturing) and thermal spray markets by supplying to major powder producers and research centers in the USA, Europe, Australia and Africa, with prospects in Asia. We currently have a number of cold crucible furnaces and vacuum inert gas atomizers (VIGA) for metal powder production on order across America and Europe. We feel very fortunate that our hard work and dedication are being recognized across the world. Thank you to our customers new and old! It is a good feeling to have repeat orders and supply some customers with different equipment two or even three times. We always have something new to offer, so do not hesitate to contact us.
We are now advertising in Metal AM magazine, which you can download from here. We are on page 50.
January 2017
See our new ad in Powder Metallurgy Review, on page 13.
An Australian university has added three of our furnaces to its metalurgy department.
Top left: Ind 500; bottom left: Arc 50; Top: Arc 200 with all the options
August 2016
Arcast's new venture makes the Powder Metallurgy Review News!
June 2016
Arcast announces yet another new furnace, the IND CC 20 tilt and pour system. The melt and pour are done in a vacuum chamber. Please see the IND CC20 page for general specs.
May 2016
Uddeholm (Swedish manufacturer of hi-tech tool steels) installs a new Induction Atomizer in the Powder Technology unit of their Hagfors plant.
March 2016
We have just finished the first part of commissioning a 100kg-batch close-coupled gas atomizer for a major USA customer.
We are about to ship a close coupled gas atomizer for a European customer.
We are pleased to release our melt spinner range of products. The first is to be placed at John Hopkins University. More details here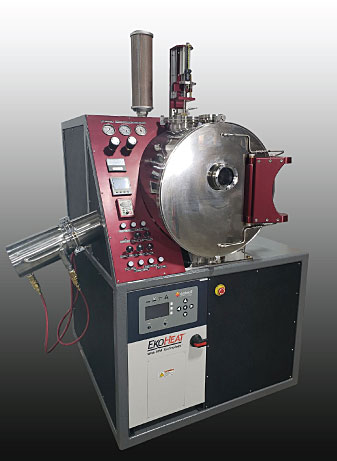 January 2016
The new argon and nitrogen gas heater development has proven to be a great success. We have taken the concept used in Thermal Spray systems and applied it to pre-heating the atomizing gas to improve efficiencies. The design requires a minimal amount of stored hot gas so the reaction time is minimal and the heating efficiency is very high.
December 2015
Another small scale arc furnace and cold crucible atomizer has shipped to Deakin University in Australia. This will help in their development of light metal powders and alloys.
August 2015
This has so far been, and will continue to, be a busy year! We are producing 3 large scale gas atomizers, melt spinners, multiple types of arc furnaces and some custom processing furnaces.
May 2015
We are pleased to have suppled furnaces to leading research establishments this month, including Imperial College London, Oxford University, England, and a repeat sale to Université catholique de Louvain Belguim.
April 2015
IMDEA of Spain have added to their capability with an Arcast arc melting furnace with our full range of options including: tilt casting, centrifugal casting, suction casting, zone melting and gas atomization under inert atmosphere or high vacuum.
March 2015
Hamburg University have chosen our latest variation of induction cold crucible laboratory furnace. This has a combination of options including a levitation cold crucible, boat furnace and a more conventional ceramic furnace, all in one user-friendly system.
February 2015
Please keep an eye out for the launch of our new dedicated materials processing business, Arcast Materials. This will include custom ingot (casting) and powder production. The focus will be on reactive and refractory metal alloys. Our developments will allow us to produce bulk quantities of titanium alloy powder at very competitive prices.
January 2015
This is the most fully featured Arc 200 we've built, with all the bells and whistles: high vacuum turbo pump system, continuous casting, suction casting, centrifugal casting, free fall atomizing (for powder production), and of course button melting. This is a compact versatile all-round research tool for titanium and other reactive metal alloy processing.
December 2014
We have had a busy year and look forward to 2015! This past year has had us designing, developing, building and installing a wide range of equipment from: systems for major consumer electronics companies, oxide melting furnaces, powder production, continuous casting and other products. These projects have sent us from the USA to Asia, Europe and Russia. Thank you to our customers for these great opportunities.
November 2014
We've added a new 10,000 sq.ft. location to support our material processing and larger development projects.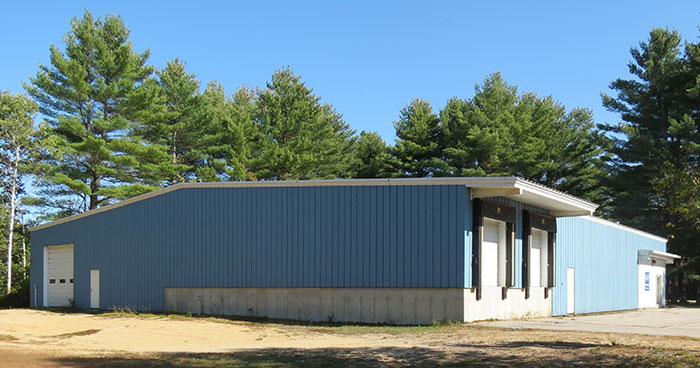 October 23nd 2014
Arcast announces a new range of furnaces, dedicated to the processing of technical alloys. Our unique processes maintain the highest quality, facilitate rapid turnaround, and guarantee low cost. The materials that can be processed include, but are not limited to, titanium, nickel super alloys, tantalum, tungsten alloys and NiTi shape memory alloys. There is now no need to use the more complex and expensive VAR (vacuum arc remelt) process. There is no need to press or fabricate starting electrodes. The processes available are arc/plasma melting or induction cold crucible. before. More Information
April 22nd 2014
We welcome everyone to visit our booth (number 445) at the PM2014 World Congress in Orlando, Florida, May 18 - 21, 2014. As a member of MPIF (Metal Powder Industries Federation) and PMEA (Powder Metallurgy Equipment Association) we look forward to attending the conference and hope to see you there.
This is a summary of the conference: The PM2014 World Congress is being held in conjunction with the Tungsten, Refractory & Hardmaterials Conference and the inaugural Additive Manufacturing with Powder Metallurgy (AMPM) Conference. All of the technical sessions, most special events, and the exhibition will be shared and open to all World Congress delegates, providing a unique value proposition and networking opportunity unmatched ever before.
Dec 2nd 2013
One of our latest installations in a new purpose built laboratory.
Nov 25th 2013
Royal School of Mines, Imperial College of London, has chosen Arcast to supply an alloying and casting cold crucible arc melter. Along with many other partners, Imperial College works closely with Rolls-Royce in developing refractory metal alloys and super alloys for the next generation of turbines. It is exciting to play a part in this developing world of material science.
Sept 19th 2013
Thanks to all of you who visited our stand at the Euro PM2013 Congress & Exhibition in Gothenburg, Sweden. It was a pleasure presenting and discussing our powder metallurgy product line including gas atomizers and other furnaces.
July 26th 2013
Another Arc 50 mini arc melting furnace has been sent to University Catholique of Louvain. This will be used to support and further their research into alloy development and testing. This furnace is fitted with a suction-casting module for rapid quenching and producing a micro crystalline structure.
June 4th 2013
Major consumer electronics companies are now using Arcast equipment to develop the new advanced alloys required in the latest range of high performing devices. Arcast is proud to be a part of such a broad range of industries.
April 5th 2013
Egypt-Japan University of Science and Technology (EJUST) will be receiving the Arcast vacuum arc melter with the electromagnetic stirring option (see link) for their alloy development. We are very pleased to work with them.
March 20th 2013
Arcast is proceeding to Phase 2 of our National Science Foundation research project for processing of refractory and reactive metal alloys. This will give Arcast and its customers the ability to process pilot-to-production scale amounts of refractory metal as powder or castings.
Feb 14th 2013
The Indian Institute of Science Education (IISER-Mohali) has chosen Arcast to supply them with a vacuum arc furnace. It is a pleasure to be part of this developing technical institute.
January 30 2013
You are looking at Arcast's new, revamped website!
Nov 19th 2012
Arcast has supplied the Los Alamos National Laboratory with another induction cold crucible - the second one we've built for them.
Nov 16th 2012
Another system to go down under! Deakin University of Geelong VIC Australia has chosen us to supply them with one of our Lab Scale arc melters (Arc 50). It is a pleasure to be working with them and supporting their research efforts.
Oct 28th 2012
Arcast has just broken ground for the foundations of its new lab and assembly space. This will give us another 2100 sq.ft. to work in; much needed space separate from the manufacturing side of the business, dedicated to research and development. Photos to come soon...
Oct 23rd 2012
We have added a highly effective electromagnetic stirrer to our range of options for our arc melters. This allows complete alloying in one heat cycle without the need to flip and re-melt multiple times. It works with any alloy system and comes in many different specifications to modulate the amount and type of stirring as required.
Please see the video!
Sept 28th 2012
We are proud to say that we are supplying TIMET in Witton, Birmingham, UK and TIMET Henderson, Nevada, USA some of our custom furnaces. TIMET is the industry leader in aerospace grade titanium products.
Aug 14th 2012
See another of our induction cold crucibles at work:
July 30th 2012
We are pleased to have completed the first phases of the NSF and NASA research projects. These programs have allowed us to significantly advance the industry's ability to process complex titanium and other refractory alloy systems in both batch casting and fully continuous production with controlled melt streams. Both of these projects focused on the melting and alloying of complex refractory metals from elemental (or virtually any other feed stock) source. Contact us to find out more about these advances in material processing.
June 8th 2012
Arcast has supplied a custom induction cold crucible to Curtin University's Hydrogen Storage Research Group in Perth Australia. This unique crucible will aid them in their materials research.
March 2012
Arcast is featured in an article printed in Powder Injection Moulding International magazine. You can see a PDF of the article here (OPENS IN A NEW WINDOW), and visit the magazine website here.
Feb 14th 2012
Arcast Inc. just signed a contract with NASA to develop an advanced plasma/induction levitation cold crucible furnace for melting, alloying and casting of advanced titanium based shape memory alloys.
NASA's comment about Arcast:
"Advanced processing methods are one of the most critical elements for both accelerating the development of innovative material and performing production scale fabrication of world class components. This is a perfect example of a marriage between advancing the research objective of NASA and promoting viable, high tech industries within the US. In my opinion, this is exactly the kind of research that SBIRs should be funding. The proposal is specific, unique, and focused. The company appears to be truly focused on producing high quality products, not just research." www.grc.nasa.gov/WWW/StructuresMaterials/AdvMet/index.html
Feb 3rd 2012
We have just visited Los Alamos National Laboratories to review the results from the uranium melting point research apparatus using one of our specialized induction cold crucibles. We were also there to demonstrate the levitation cold crucible melting furnace intended to be used for crystal growing. www.lanl.gov/orgs/mst/mst8/index.shtml
Jan 31st 2012
| | | |
| --- | --- | --- |
| | | |
| Four PHD students at North Texas University pose with the Arc 200, and, left the Arcast team and the professor | | The Arcast team training PHD students at North Texas University |
We have completed the installation and training at the University of North Texas of another Arc 200 vacuum arc melter. This cold crucible arc melting furnace will be used by the university's students and researchers for preparing advanced titanium alloys among many other materials. While training a PHD student prepared a new alloy for landing gear for Boeing. www.mtse.unt.edu
Nov 5th 2011
Arcast Inc. is supplying a custom levitation cold crucible and a skull melter to Los Alamos National Laboratory. This will support their research in high temperature metals and oxides.
Oct 27th 2011
Arcast Inc. has been awarded SBIR Phase I funding for Reactive and Refractory Metal Processing. The outcome of this project is to build a casting and atomizing plant for reactive and refractory metals, using a new continuous process centered around a hybrid plasma arc induction furnace. The plant will facilitate highly flexible production of complex novel alloys from elemental feed stock in one cost-effective, non-stop operation. It will be completely ceramic free and non-contaminating, retaining the key theoretical performance of the reactive metals and compounds produced.
Sept 15th 2011
Arcast Inc. is supplying a high vacuum Arc 200 arc melting furnace with a centrifugal and tilt casting option to the University of North Texas for their research in titanium and other alloys.
Feb 28th 2011
Arcast Inc. is proud to place an Arc 200 arc melter at University of Southern Maine. This will be used for their research and development in materials science. Some of this research includes shape memory alloys. It is intended that this system will be in place in their labs in the summer of 2011.
Feb 23rd 2011
Arcast Inc. is releasing a new line of product, Cold Crucible Induction Melters. This is a technology that uses a high frequency induction coil to levitate, melt and alloy metal above 3000 Deg. C in a clean water cooled copper crucible. This is also known as levitation melting and can be abbreviated as CCIM or CCLM. Our capacity is from 10g up to many kilograms. Our off the shelf product is aimed at the research lab scale. It can melt as little as a few grams.
You tube video   http://www.youtube.com/watch?v=fB5At2XRpvI
Levitation cold crucible melting
5th Aug 2010
Arcast has just released three new products for the high-tech materials market. These are: the Arc 50, the Arc 200 and the Ind 500 furnaces. You can learn more about these from our Products page.
3rd Aug 2010
You are looking at Arcast's new website!